PC/104+ stackable breakout board for Model 301-06 | Model 300TA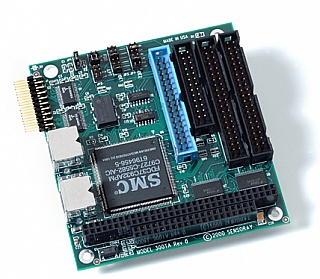 A set of standard PC peripherals for 301-06 CPU board
2 IDE channels for up to 4 devices
Floppy interface
2 serial ports
1 parallel port
Model 300TA is a legacy product and is not recommended for new designs. Legacy products are available but may have lead times up to 12 weeks and minimum order requirements. Use our Product Finder to find a comparable product or contact our Design Support Team.
Description
Model 300TA is designed to provide additional I/O capabilities for the 301-6 CPU. Those include standard PC keyboard and PS/2 mouse interfaces, 1 parallel and 2 serial ports, a floppy drive interface, and a 2 channel IDE interface. The 300TA is a standard PC/104 board (3.8 x 3.6 inches).
Serial ports
Two high speed (up to 460 Kbps) RS232 ports are supported by model 301-6 CPU as COM3 and COM4. A 20-pin header pinout allows for an easy connection to 2DB9 connectors using flat cable.
Floppy interface
FDD interface supports up to 2 floppy drives. A standard 34-pin FDD connector is provided.
Parallel port
An IBM AT-compatible parallel port supports ECP parallel port mode. A 26-pin header pinout allows for an easy connection to a DB25 connector using flat cable.
IDE interface
Supports 2 channels for up to 4 IDE devices. Two standard 40-pin connectors are provided.
Keyboard and mouse
Two mini-DIN (PS/2) connectors allow connecting a mouse and a keyboard directly to the 300TA.
Pricing & Ordering