PC 104 and PC 104+ expansion bus | Model 301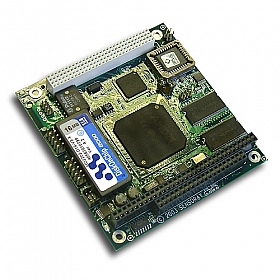 Low power AMD Elan SC520 133 MHz CPU
PC/104 and PC/104+ expansion buses
16 MB flash, 32 MB SDRAM
DiskOnChip support
10/100Base-T Ethernet adapter, 2 serial ports
Watchdog timer
Custom configurations available
Bus buffers for driving multiple PC/104 boards
Available with Linux (Model 301-6L) or Windows CE (Model 301-6CE)
Model 301 is a legacy product and is not recommended for new designs. Legacy products are available but may have lead times up to 12 weeks and minimum order requirements. Use our Product Finder to find a comparable product or contact our Design Support Team.
Description
Sensoray's Model 301-06 is a low cost, low power CPU board featuring a combination of characteristics required in most embedded applications using the PC/104+ form factor (3.8 x 3.6 inches)
CPU
The AMD Elan SC520 processor running at 133 MHz provides the performance approximately equivalent to that of a Pentium 75 processor. The board is supplied with 32 MB SDRAM and 16 MB flash disk.
I/O
The 301-06 has two serial ports (RS-232) that support communication speeds of up to 115 Kbps.
Expansion Buses
Model 301-06 supports both PC/104 and PC/104+ expansion buses. It allows up to 4 external PC/104+ devices.
Ethernet
The 301-06 board is integrated with a 10/100 Base-T Ethernet adapter built with a Intel GD82559ER PCI Ethernet controller. The board is equipped with an RJ45 network connector, and drivers for various operating systems are available.
Non-volatile memory
Sensoray's 301-06 is supplied with a 16 MB flash disk, which the software recognizes as a regular hard drive. A socket is provided for an optional DiskOnChip (a 3V part is required).
Power
Only one +5V power supply is required, as the board's total power consumption is 5 watts (power dissipation is 7 watts). A power connector allows the connection of additional power supplies (-5V, +12V, -12V) to the expansion buses, if necessary.
Watchdog Timer
An I/O-mapped watchdog timer — with a time out value of 1.6 seconds — can reset the CPU or drive an open-collector output to reset external circuitry.
Bus buffers
The data, address and control bus signals are buffered to allow stacking several PC/104 boards without degrading signal quality, making it possible to add up to five PC/104 peripheral boards to one 301-06 CPU.
Specifications
Memory
Flash memory
16 MB
RAM
32 MB
Interfaces
Ethernet
1 port, 10/100 base-T
Serial COM
2
VGA interface
None
IDE interfaces
0
Printer ports
0
USB ports
0
Power Consumption
Input power
7 Watts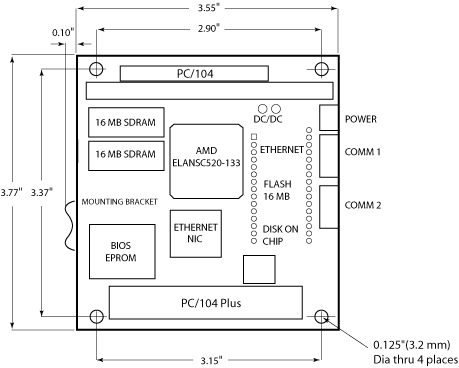 Pricing & Ordering