CRT/LCD display adapter | Model 322
128-bit video accelerator for fast 2D and 3D graphics
SVGA support for up to 1600 x 1280 pixels
NTSC/PAL, composite and S-video
LCD support including power sequencing
4 MB synchronous graphic-RAM supplied
Extended driver support for Windows NT, 2000
Support for OS/2, QNX, DOS through standard VGA registers
Model 322 is a legacy product and is not recommended for new designs. Legacy products are available but may have lead times up to 12 weeks and minimum order requirements. Use our Product Finder to find a comparable product or contact our Design Support Team.
Description
The Sensoray Model 322 is a low-cost PC/104+ video graphics adapter that combines the functionality of a high-powered desktop graphics adapter to provide a powerful graphics solution for embedded applications. The 322 is suitable for high bandwidth video and multimedia embedded applications taking full advantage of the PC/104+ bus throughput, very wide video buffer memory, and multiple onboard video engines. The 322 uses the very latest in single chip video graphics controllers that offer low power consumption, enhanced reliability and ruggedness. The 322 is compatible with any PC/104+ compliant CPU board such as the Sensoray model 301-06.
The 322 has a 32-bit 3D video core which is 100% VGA compatible. It has outputs for a CRT monitor (RGB), LCD flat panel and two TV outputs. Using Dual View capabilities, two different applications can be displayed on different devices or a portion of the primary display on the secondary display.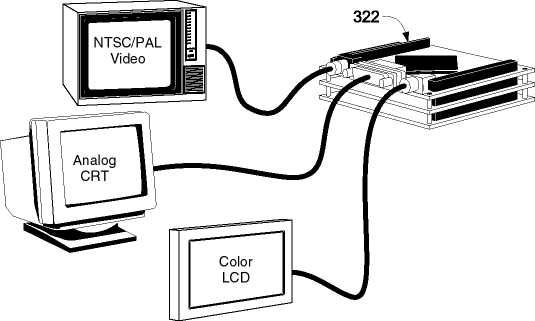 VGA compatible
The 322 is fully VGA register compatible and can be used with any operating system that has a VGA drivers. A fully compliant VGA BIOS provides full compatibility with PC based systems. Enhanced drivers, available for Microsoft Windows 95, Windows NT, and Windows 98, extend the functionality of the 322 by using the high performance capabilities of the video graphics controller (the advanced user can access the higher capabilities of the 322 in other operating systems by writing an appropriate driver that accesses the graphic controller's registers.
Video memory
The Model 322 comes standard with 4 MB of high speed video memory on a 128-bit memory bus embedded in the controller chip.
CRT Interface
The 322 has a high speed, up to 135 MHz, pixel clock for CRT displays. This allows for very high resolution at high vertical refresh rates. For example a vertical refresh rate of 75 Hz at 1024x768 resolution or 85 Hz at 640x480. At 1600x1200 a refresh rate of 60 Hz is achieved.
The 322 also includes various features such as: LCD auto-centering, LCD screen expansion (including XY interpolation screen expansion), virtual refresh, and special dithering engines for TFT and DSTN flat panels. The LCD interface uses 3.3V voltage levels compatible with most low power LCD flat panels.
Graphics and Video Engines
A set of powerful graphics engines designed to accelerate 2D and 3D graphics. These engines include an IEEE floating point setup unit, a full featured 3D rendering engine, a 128-bit 2D drawing engine, a motion compensation block, and a video processor block. The drawing engine supports key GUI functions such as 3 operand ALU with 256 raster operations, pattern BLT, color expansion, trapezoid fill, and line draw. The IEEE Floating Point Setup and 3D rendering engines combine to give high end 3D graphics performance to embedded computer systems with such features as Mip Mapping, Alpha Blending, Anti-Aliasing, Specular Highlights, and Fog, supported. For MPEG decoding, the motion compensation engine can significantly reduce CPU overhead. The video processor block manages the video of different video data formats and can perform such conversion as YUV to RGB and perform flicker reduction and adjustable overscan/underscan for TV display.
Specifications
Software
Driver support
Windows 95, 98, NT
MS-DOS through VGA BIOS
Support for other operating systems through standard VGA registers
Electrical
Video outputs
SVGA, PAL, NTSC composite and S-video
Digital I/O
Four, 3 V programmable I/O signals
Input power
3.75 W, typical at 5 VDC ±5%
Low power mode depends on functions selected
Standard video RAM
4 MB
Mechanical and Environmental
Dimensions
(W x H): 3.5 x 3.775 inches; 90.01 x 96.0 mm
Operating environment
10 to 50 °C
Mixed signal connector J2
Mates with Molex 87568-20xx
(xx represents type of IDC header and housing)
LCD connector J4
Mates with Moles 87568-30x
(alternate connector such as 51110-2050 may be used)
Pricing & Ordering