PC/104+ PCMCIA/CardBus adapter | Model 335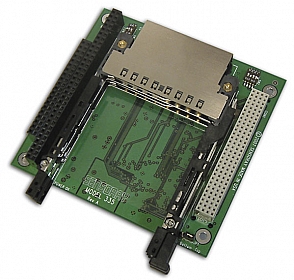 Dual PCMCIA/CardBus
Ruggedized
16-bit or 32-bit operation
Single supply (5 V) input power
Model 335 is a legacy product and is not recommended for new designs. Legacy products are available but may have lead times up to 12 weeks and minimum order requirements. Use our Product Finder to find a comparable product or contact our Design Support Team.
Description
Model 335 is a bus-to-bus adapter that enables the use of CardBus or PC Card modules in PC/104+ systems, thereby adding to PC/104+ optional functions such as 802.11 wireless, IEEE-1394 Firewire, and SCSI interfaces. The 335 supports Type I, Type II, and Type III PCMCIA memory, I/O, and ATA hard disk modules such as Toshiba Microdrives. The CardBus feature supports 32-bit PC Cards operating at bus speeds up to 33MHz.
Status lights
Three LED lamps are positioned at the CardBus edge to facilitate viewing the 335's status.
Interrupts
Parallel PCI interrupts are available to the PC/104+ bus while ISA interrupts are available at the PC/104 connector.
Mechanical design
The adapter's CardBus connector is soldered to the carrier board to make it mechanically robust. An insulating partition on the component side prevents CardBus boards from touching circuit board traces.
Accessories
Sensoray-supplied compact flash and wireless Ethernet adaptors are guaranteed to work when used with Sensoray's CPU's and software.
Software
Linux drivers are available from Sensoray for model 11b wireless Ethernet and for standard compact flash memory.
PCMCIA has been tested on Linux and Windows XP.
Specifications
Dimensions
(W x H x D): 96 x 105 x 23 mm
Weight
113 g
Power
+5 V / 250 mA (without USB devices and PC-cards)
+12 V / current with PC-cards
PC card
Two type I, Type II, or One Type III
Temperature range
0 to 70 °C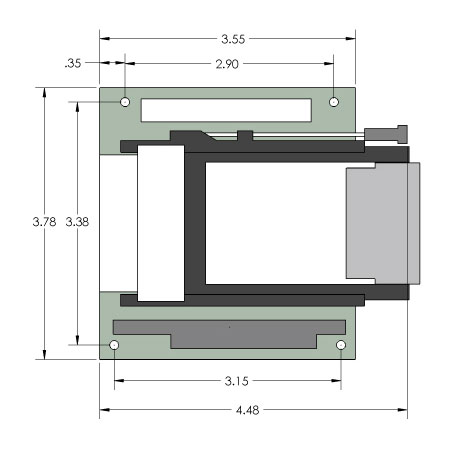 Pricing & Ordering