Camera connection box, 2U rack mount, 16 in/8 out | Model 609TA

Connectors for 16 composite video inputs, 8 video outputs
8 mechanical relay outputs with NC, NO selection
16 optically isolated digital inputs
8 open collector digital outputs
Available without digital I/O
Description
This accessory box allows the connection of cameras, video monitors and digital I/O signals to model 609, 615 and 617 frame grabbers. Signal connections between the frame grabber boards and the box are via flat cables.
Video inputs
Sixteen BNCs connect composite video to the frame grabbers. Transorb diodes protect each input from power surges.
Video outputs
Eight real-time video outputs are available for display on video monitors.
If two 609 frame grabber boards are used, any of the thirty two video inputs may be connected to any eight of the video outputs. If two 617 frame grabber boards are used, any of the thirty two inputs may be connected to any of the first four video outputs. Transorb protection diodes on the 609TA help protect the frame grabber.
Relay outputs
Sixteen electromechanical relays are available for switching bipolar circuits of up to two amps. Circuits on each 609 or 617 frame grabber activate sixteen relays. A slide switch above each set of relay terminals allows selecting normally open or normally closed operation.
Digital inputs
Sixteen digital inputs are available for sensing external events. Each input is optically isolated from the 609 or 617 frame grabber board.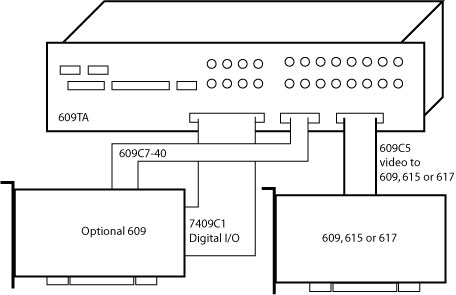 Enclosure mounting
Two removable mounting brackets may be attached to the box in two different positions to allow mounting in a standard 19-inch enclosure or attachment to a vertical or horizontal surface.
Specifications
General
Compatible frame grabbers
Models 609, 615, and 617
Weight
2.2 lb. (1 kg)
Dimensions
(W x H x D): 19.00 x 3.50 x 2.05 inches; 482.6 x 89.0 x 52.0 mm
Inputs
Video inputs
16 (one model 609/615/617 required)
Optically isolated digital inputs
16 (one model 609/617 required)
Max. input voltage protection
6 V
Digital input amplitude
5 to 48 V
Outputs
Real-time video outputs
8 (with 609 frame grabber)
4 (with 617 frame grabber)
Open collector digital outputs
8 (one model 609/617 required)
Open collector load rating
5 VDC, 25 mA
Relays
Form-C relays
8 (one model 609/617 required)
Relay contact rating
2A, 30 VDC
Pricing & Ordering