72-channel digital I/O | Model 621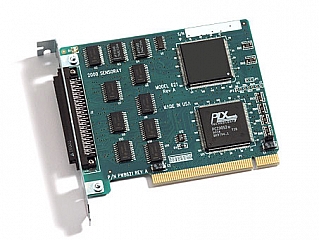 72 bi-directional TTL lines, programmable in banks of 8
64 lines have edge detection and interrupts
8 lines have input strobe and output enable control
Output driver readback
Description
Model 621 is a low-cost PCI digital I/O board for interfacing a large number of discrete logic signals to PCI computers. Its 72 I/O lines are software programmable as inputs or outputs in banks of eight lines.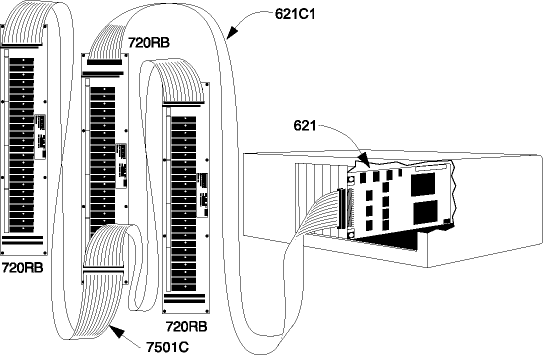 Edge detection
When enabled, sixty four of the lines can detect logic state changes. A flag is set in a 64-bit register for each input that changes state. The register may be polled to determine which inputs have changed state. The 621 may optionally generate an interrupt whenever state changes occur.
Synchronous I/O
Eight of the 72 I/O channels have special functionality. When programmed as inputs they may be used to latch input data upon command from an external strobe signal.
If these eight lines are programmed as outputs, an external strobe signal can tri-state/enable the data outputs. For additional flexibility, the data direction of these special I/O lines are programmable in two 4-bit blocks.
External relays
The 621 adapter may be connected to as many as three Model 720RB solid-state relay boards. Each 720RB relay board accepts twenty four industry standard relays.
Specifications
| | |
| --- | --- |
| Number of I/O channels | 72 bi-directional, TTL |
| Update rate | 5 MHz |
| Programmable I/O blocks | Eight 8-bit blocks and two 4-bit blocks |
| Source current per channel | 12 mA |
| Sink current per channel | 12 mA |
| I/O connector | 80-pin |
| Compatible relay board | Model 720RB |
| Power supply requirements | 5 V (at 200 mA) |
| Mating Connector | Robinson Nugent P50E-080P-1-SR1-TG |
| Dimensions | (W x H): 4.786 x 3.950 inches |
Downloads
File
Version
Type
Size
Linux software development kit
For Models 621, 720 and 721
1.0.0
TAR
110 KB
Windows software development kit
For Models 621, 720 and 721 | 32-bit NT4 compatible
1.0.0
ZIP
38 KB
Other Operating Systems
Need a software development kit for another operating system? We can port our SDK to
your OS or provide the information you need to do it yourself. Contact Sales for details.
Pricing & Ordering