Video output interface | Model 622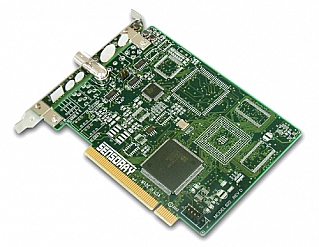 Decodes and displays MJPEG images
Composite and S-Video outputs for VHS recorders and TV monitors
Description
Model 622 is a video output board. Together, the included software and video output board decompress stored JPEG images and generate composite video for VHS tape recorders or for display on a TV monitor. Unlike conventional graphics boards, the 622 does not display the computer's desktop, it only displays the selected JPEG file.
The software program reads JPEG image files, decompresses and transfers them to the 622 board. A video decoder on the board converts the data to NTSC/PAL composite and S-video.
Accessories
Model 622 may be used with JPEG and MJPEG files generated by Sensoray's 615 and 617 JPEG capture boards. It is supplied with a Windows compatible DLL and sample application program.
| Model | Description |
| --- | --- |
| 615 | 16-channel JPEG frame grabber |
| 617 | 16-input JPEG frame grabber |
Specifications
Computer bus
PCI 2.1
Supported operating systems
Windows 2000, NT, XP
Video outputs
1 Vpp NTSC/PAL composite
1 Vpp Y and C video
JPEG decoding
640x480, 320x240 NTSC
704x544, 352x272 PAL
Video resolutions
12 mA
Frame rates
30 frames/second NTSC
25 frames/second PAL
Dimensions
(W x H): 7.0 x 4.2 inches; 178 x 107 mm
Downloads
File
Version
Type
Size
Model 622 Software and Manual
1.0.0
ZIP
867 KB
Other Operating Systems
Need a software development kit for another operating system? We can port our SDK to
your OS or provide the information you need to do it yourself. Contact Sales for details.
Pricing & Ordering