CompactPCI to PCI adapter | Model 627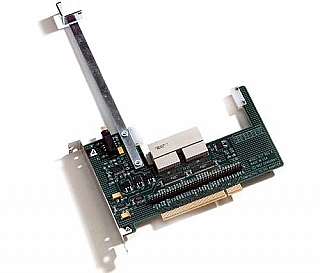 Allows testing CompactPCI boards using an inexpensive desktop PC
Exclusive HotSwap software utility eliminates the need to restart the host after hot-swapping CompactPCI boards
No disturbance to host PCI bus during hot-swapping
Single switch operation and LED power indicator
Header pins available for logic analyzer hookup
Description
Sensoray's model 627 allows testing CompactPCI boards using an inexpensive desktop PC. The 627 offers significant time saving during product development and production testing by allowing CPCI boards to be hot-swapped within a desktop PC. There is no need for an expensive CompactPCI enclosure nor processor to test CPCI boards.
Protects Your Computer
Use of the Model 627 protects the system's PCI slot from physical wear and reduces the system's electrical stress from frequent power cycling.
Specifications
Bus
PCI, 32-bit, 33 MHz
Control
Single illuminated push button
Mounting
Standard PC hold-down bracket
Compact PCI board mounting
Guide rails and a CPCI hold-down bracket
Dimensions
(W x H x D): 6.50 x 4.75 x 0.75 inches
(does not include the CPCI hold-down bracket)
Power
5 VDC, 50 mA
±12 VDV available
Downloads
File
Version
Type
Size
Hotswap
—
ZIP
1.43 MB
Other Operating Systems
Need a software development kit for another operating system? We can port our SDK to
your OS or provide the information you need to do it yourself. Contact Sales for details.
Pricing & Ordering