Solid-state relay board | Model 720RB/720RBDIN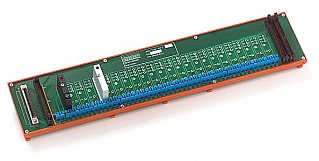 Sockets for 24 industry-standard SSR modules
3 boards can be chained to support up to 72 SSR modules
Screw terminals for easy field wiring
Mountable via standoffs (720RB) or DIN rail (720RBDIN)
Connects to model 721
Model 720RB/720RBDIN is a legacy product and is not recommended for new designs. Legacy products are available but may have lead times up to 12 weeks and minimum order requirements. Use our Product Finder to find a comparable product or contact our Design Support Team.
Description
The Sensoray Model 720RB Solid State Relay board provides optically coupled interfaces between low-level computer signals and high-power loads. Isolation is achieved by adding opto-coupled solid state relay modules. Up to twenty-four solid state releys may be added to the board.
Field connections
Two screw terminals are available for each of the twenty-four loads. The terminals will accept 16 to 24 AWG stripped wire.
Computer connections
Low-level signals from parallel adapters such as Sensoray's 7421 are connected to the 720RB with either an 80-conductor round cable or 50-conductor flat cable. The 50-conductor cable follows industry-standard pinouts for solid state relay boards. The 80-conductor cable brings 72 I/O signals from high capacity I/O adapters to one 720RB. Forty-eight of these signals may be diverted to two additional 720RB's so that 72 solid state relays may be controlled from a single adapter.
Mounting hardware
The standard 720RB is supplied with eight half-inch high threaded standoffs. Model 720RBDIN is supplied with mounting hardware for DIN rails.
Specifications
Number of relay sockets
24
Maximum relay voltage
220 Vrms
Maximum relay current
5 A
External voltage required to power input relays
5 VDC
Wire sizes
0.5 to 2.5 mm2
16 to 24 AWG
Dimensions
(W x H): 18.715 x 3.800 inches

Pricing & Ordering