Breakout Board, 40-pin, with CJ Sensor and Prototype Area | Model 7409TC/7409TDIN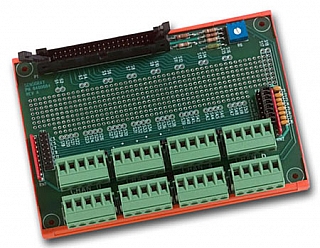 Connects 8 sensors to any Sensoray smart sensor interface board
Supports 4-wire sensor connections
Screw terminals for easy field wiring
Eight removable terminal blocks
DIN rail mountable
Cold-junction transducer for thermocouples
Prototyping area for custom circuitry
Description
Sensoray's model 7409TC and 7409TDIN termination boards make it quick and easy to connect sensors to any of our Smart A/D sensor interfaces. Both models have removable screw terminal blocks, a temperature sensor, a generous prototyping area, and special signal conditioning area circuitry for thermocouples. The 7409TC is designed for panel mounting, whereas the 7409TDIN can be mounted in seconds by snapping it onto a DIN rail. Both models employ a 40-pin header to connect to the sensor interface board.
Removable Connections
Each of eight sensor channels is supported by a removable terminal block that has five screw terminals: two for voltage input, two for sensor excitation, and one for shield. Field wires need only be stripped and secured to the terminal block.
Thermocouple Reference
An integral temperature sensor provides a reference signal for thermocouples. This sensor uses a dedicated input channel so that all eight sensor interface channels remain available for external sensors. The thermocouple reference sensor is factory calibrated so that termination boards may be painlessly interchanged.
Prototype Area
A matrix of plated-through holes on 0.1-inch centers is available for custom circuitry such as attenuators, filters and isolation amplifiers. All sensor signals, as well as power, are conveniently brought to this area.
Signal Conditioner
A thermocouple signal conditioner, consisting of a low-pass filter and open-sensor-detection circuit, may be connected to any channel by installing option shunts.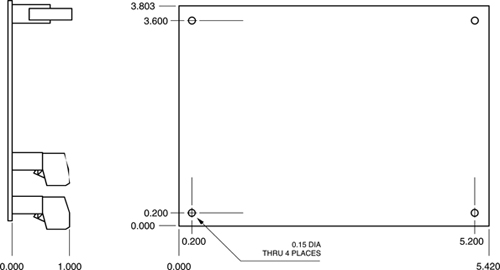 Pricing & Ordering