2226
From Sensoray Technical Wiki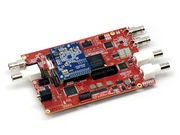 Models 2226 and 2224 are high performance and flexible H.264 compression cards. They also allow capture of individual video frames and video output from 2 composite or 2 SDI video outputs. With an HD source, the composite video will be conveniently and automatically downscaled. The 2226 can also be used to overlay text and graphics on a video stream for subsequent capture or video output.
Raw preview
A common question we get is "what is raw preview"? Raw preview is uncompressed video displayed on a PC. Although the 2226 compresses video with a powerful H.264 codec to reduce the bitrate, previewing that stream requires decode on a PC and results in higher latency.
USB2.0, however, does not have the bandwidth to transfer HD video at full frame rate. The 2226 works around this by allowing a reduced size video preview at full frame rate. The latest 2226 SDK also allows preview of full 1080 or 720p HD, but at reduced framerate.
Compression
The 2226 encodes HD using H.264 high profile.
HD snapshots and preview
The latest Windows SDK allows capture of full size raw HD at faster rates than before. This video can be displayed (preview), saved to file, or analyzed. Currently, 1080 video can be captured at about 4fps. This is a significant improvement from using the standard S2226_GetSnapshot functionality in the SDK. If you require this feature, please contact technical support for details or see the latest Windows SDK manual on our website.
Linux Raw Preview
The preview stream is now available in the Linux SDK. This will require an update of the driver and some changes to user code. Please see our demo application for hints on porting to the V4L2 driver when it is released.
It is highly recommended to use the latest Linux kernels due to improvements in the Video for Linux libraries. For our latest to be released V4L2 driver, we recommend kernel 3.14 or higher. 3.14 will also be the kernel for the latest Ubuntu LTS release.