HD-SDI video processor/capture card with overlay | Model 2246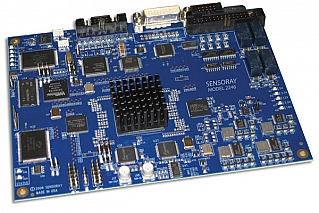 Video overlay up to full screen at up to 1920x1080
SDI (HD/SD) and analog inputs
DVI, SDI (HD/SD), and analog outputs
Prescaled SD A/V compression engine with MPEG-1/2/4 output
Up/downscaling on DVI and analog outputs
Captures uncompressed HD/SD frames
Generates "freeze frame" video from captured frames
Video "zoom" on MPEG stream and DVI output
Isolated general-purpose digital I/O: 8 in / 4 out
USB 2.0 interface
Description
The 2246 is a USB 2.0 A/V (audio and video) MPEG-1/2/4 (MPEG ISO 14496-2) processor that supports multiple video input formats, including SDI 1080i, 720p, and both SDI and analog NTSC/PAL SD. It compresses video and stereo audio to MPEG-1 system stream, MPEG-2 program stream, or MPEG-4 (AVI), and sends the resulting stream onto USB. At the same time, it can capture uncompressed full-frame snapshots and send them over USB, while it simultaneously generates live or freeze frame video on its four video outputs.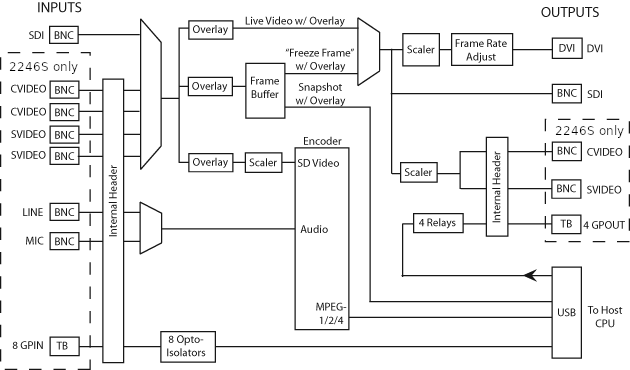 At any time, one HD or SD video source (HD-SDI/SD-SDI, S-Video, or composite) and one audio source is selected for processing. The selected video is copied to three independent overlay generators, which in turn produce three new uncompressed, overlaid video streams. These three video streams are then processed in parallel by the compression engine (along with audio), video output generators, and frame capture subsystems.
Audio may be sourced from embedded SDI audio, external audio line in, or external microphone signals. Audio can be output to embedded SDI, line out, MPEG stream, or any combination of these.
The compression engine simultaneously compresses SD video and stereo or mono audio. When an HD video source is selected, the overlaid video is downscaled to SD before encoding.
All four video outputs (HD-SDI/SD-SDI, DVI, SVIDEO, and composite) function simultaneously regardless of the video source format. In the case of HD sources, the video is downscaled for compatibility with composite and S-Video outputs. SD sources are upscaled as appropriate for the DVI output. The DVI output, which may be formatted for 1080i, 1024x1280p, or NTSC/PAL resolution, incorporates frame rate conversion to ensure synchronization to standard displays.
A frame buffer is provided to capture uncompressed snapshots of individual frames. Captured frames can be sent over USB concurrently with the video stream, and may also be sent to the video outputs as freeze frame video.
The 2226 sports a zoom feature on the MPEG and DVI output streams. Video can be stretched up to 2.5x horizontally and 5x vertically, with origin moved to any arbitrary position. Video zoom is performed by the scaler blocks.
The unit is available in a robust enclosure (model 2246S) or as a stand-alone board (model 2246) for OEM applications. An optional termination board adapter, Model 2246TA, can be used to conveniently break out connections from Model 2246.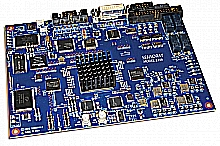 Video Overlay
Model 2246 supports text and graphic overlays at 16-bit color resolution. Eight overlappable, hardware-managed regions are supported. Each rectangular region may occupy up to full screen size. Any true-type font can be displayed. Graphics can be displayed from standard .bmp files as well as generated on the fly by Sensoray's 2246 API. The API allows graphics to be easily placed and moved anywhere on the screen. Real-time update rates are possible for small overlay regions, while update rates for larger regions vary depending on computer speed and USB activity.
Each overlay region may be applied to the compressed stream, the live video output stream, the freeze frame video, or any combination of these. In the case of the MPEG stream, the video is overlaid before it is compressed.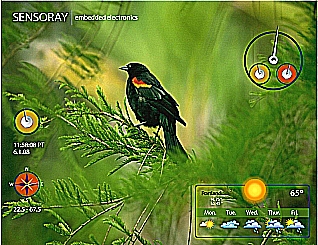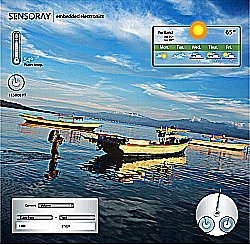 Video pass through
The board includes special circuitry which will, in conjunction with an external power supply, enable video inputs to pass through directly to the video outputs (without reformatting). This feature is useful in the event of primary power loss or if the host computer is offline.
General purpose digital I/O
The 2246 has eight digital inputs and four digital outputs for general purpose use. The inputs are optically isolated, while the outputs employ compact electromechanical relays. Each output relay has two form-C contacts.
Software Development Kit (SDK)
A windows driver is supplied for software developers. The driver contains a low-latency MPEG software decoder that will decode the audio and video on the MPEG stream sent from the 2246. A comprehensive Windows demo program is also included with the SDK.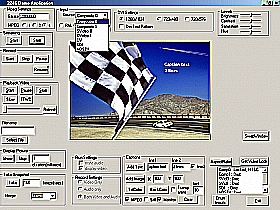 Evaluation System
An evaluation system, Model 2246S, brings out the circuit board's signals to conventional connectors. Its aluminum enclosure shields sensitive circuits and protects the 2246 from physical damage.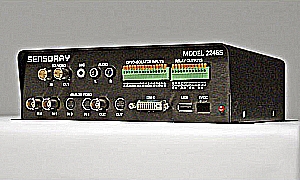 Specifications
Video Inputs
HDTV
1920 x 1080 SDI
1080i 25/30 fps
Video formats supported
HDTV
SMPTE 295M, SMPTE 274M, SMPTE 296M
SD-SDI
SMPTE 259M
HD-SDI
SMPTE 292M
SDTV
SMPTE 125
SDTV
ITU-R BT 601.5
SDI input specifications
Serial input data rate (max.)
1.485 Gbps
Serial input voltage swing (max.)
950 mVpp
Input impedance
75 Ω, single ended
Composite
NTSC
640 x 480, 30 fps, ±1 Vpp
PAL
704 x 544, 25 fps, ±1 Vpp
S-Video
1.18 Vpp (when load is 75 Ω)
Audio
Channels
2 stereo
Analog input voltage
1 Vpp
Input resistance
10 kΩ, single ended
Video Outputs
DVI cable requirement
DVI-D (single link)
DVI for LCD displays
60 Hz, 1280 x 1024 display supported at all input resolutions
DVI output voltage (max.)
3.475 V
DVI output voltage swing
400 to 600 mVpp
ESD (HBM)
4000 V
Composite
1.25 Vpp (when load is 75 Ω)
S-Video
1.18 Vpp (when load is 75 Ω)
SDI Serial output data rate (max.)
1.485 Gbps
SDI Serial output voltage swing (max.)
880 mVpp
SDI Output impedance
75 Ω, single ended
Image processing
Compression types
MPEG-1 720 x 489/576
MPEG-2 720 x 480/576
MPEG-4 720 x 480/576 (480 NTSC, 576 PAL)
Scaling
HDTV to D1 for MPEG compression
Host Communication
USB 2.0
Control & compressed audio/video stream
Working speed
480 Mbits/second (SUB 2.0 high-speed)
Data output high voltage
2.4 V
ESD (HBM)
2000 V
Digital I/O
Hard contact relay outputs
4 NO/NC contacts
Opto-isolated
8 Sets
Other
Grounding
Digital GND and analog GND are connected on 2246 board
Four mounting holes are not connected to ground
Input power
5 V, 2 A
Pricing & Ordering