STD to ISA bus adapter | Model 422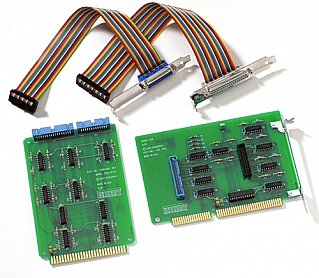 Connects STDbus backplane to an ISA slot in a desktop PC
Parallel RS-422 bus provides high noise immunity
Supplied with 1 meter interconnecting cables, STD and ISA boards
Low Cost
Decodes 8-bit address
Model 422 is a legacy product and is not recommended for new designs. Legacy products are available but may have lead times up to 12 weeks and minimum order requirements. Use our Product Finder to find a comparable product or contact our Design Support Team.
Description
Model 422 is a bus-to-bus adapter that extends an ISA bus and connects it to a card rack of STDbus I/O boards. It has three parts: an ISA board, an STDbus board, and a set of flat cables to connect the two boards. The 422 makes the STD boards appear as additional ISA boards in a PC.
Address Decoding
The ISA board decodes the high 8-bits of the address bus. All STD bus I/O boards are mapped into a 256-address window in the ISA I/O space. The standard address range for this window is 0x0100 to 0x01FF. The address window may be changed by reprogramming a PLD on the ISA card.
Pricing & Ordering