Multifunction analog/digital I/O | Model 425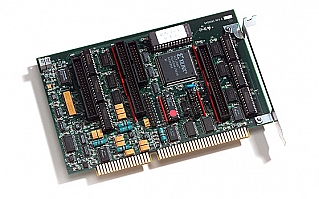 Three quadrature encoder channels with 24-bit counters
Four 12-bit D/A outputs
Eight 12-bit differential A/D inputs
Watchdog timer
48 bidirectional digital signals
Interrupts from counters and digital I/Os
Model 425 is a legacy product and is not recommended for new designs. Legacy products are available but may have lead times up to 12 weeks and minimum order requirements. Use our Product Finder to find a comparable product or contact our Design Support Team.
Description
Sensoray's model 425 is a low-cost ISA bus interface that combines five popular functions on one board. It uses four low-profile headers and flat cables to connect its I/O interfaces to external breakout boards.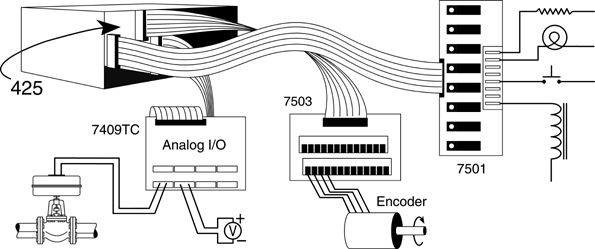 Encoder Interfaces
The board's 24-bit up/down counter channels are designed to work with incremental encoders or single-phase clock sources. Each channel accepts two TTL or RS-422 clock signals, plus an index signal, to track encoder direction and displacement. Unlike conventional counters, the board's counters do not accumulate errors when the encoder dithers or changes direction. The board supplies 5-volt operating power to all encoder channels through its connectors. Each counter can be programmed to function as an encoder interface or as a general-purpose timer and may optionally generate interrupts. To ensure maximum flexibility, no counter functions are shared by any other on-board peripheral devices.
A/D
Eight differential input channels are multiplexed to a sample/hold and high-speed A/D converter. A resistor-programmable instrumentation amplifier allows gains of 1 to 1000. An on-board DC/DC supply ensures A/D linearity for the full ±10 V input range.
D/A
The board has four analog output channels with a 0 to 10 V output range. One of the channels has remote sense inputs to compensate lead loss errors. All outputs are automatically reset to 0 V when a bus or soft reset occurs.
Watchdog
The board's watchdog timer output may be routed to either bus reset or nonmaskable interrupt. It may be enabled or disabled under program control. The timer is automatically disabled when a bus reset occurs.
Digital I/O
Model 425 has forty eight high-current digital I/O channels. The connector pinouts allow the channels to be directly connected to industry-standard solid relay boards. Each line is independently configurable as input, output, or wired-OR. Sixteen of the channels support edge detection with interrupts. When a system reset occurs, all output channels are automatically turned off.
Specifications
Analog Inputs
Conversion time
20 µS
Number of channels
8 differential
Input resistance
100 MΩ
CMRR
100 dB minimum
Maximum common mode voltage
5 V
Resolution
12 bits
Accuracy
14 bits
Input ranges
±10, ±5 V
Offset error
±1/2 LSB
Analog Outputs
Conversion time
200 µs
Resolution
12 bits
Offset error
±2 LSB
Output voltage
±10 V
Output resistance
87 Ω
Digital I/O
Number of channels
48 bi-directional
Output voltage
0 to 5 V, open collector
Output sink current
100 mA (at 1.1 V)
Encoder Interfaces
Number of channels
3 quadrature, 16 bit
Input voltage
TTL or RS-422
Input frequency
350 kHz
Watchdog Timer
Watchdog timer time-out
Time-out: 500 ms
2-pin connector may be connected to the bus reset line to allow a system reset from software
Power and Environmental
Operating temperature
-25 to 70 °C
PC bus interface
I/O mapped, 16 ports
Input power
< 3 W
Downloads
File
Version
Type
Size
Model 425 Software Development Kit
1.0.0
ZIP
1.23 MB
Other Operating Systems
Need a software development kit for another operating system? We can port our SDK to
your OS or provide the information you need to do it yourself. Contact Sales for details.
Pricing & Ordering