PC/104+ to PCI adapter | Model 623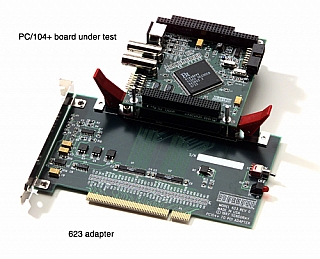 Allows testing PC/104+ boards using an inexpensive desktop PC
Exclusive HotSwap software utility eliminates the need to restart the host after hot-swapping PC/104+ boards
No disturbance to host PCI bus during hot-swapping
Single switch operation and LED power indicator
Header pins available for logic analyzer hookup
Description
Model 623 allows testing PC/104+ boards using an inexpensive desktop PC. The 623 offers significant time savings during product development and production testing by allowing PC/104+ boards to be hot-swapped within a desktop PC.
There is no need for an expensive PC/104+ enclosure and processor to test PC/104+ boards.
Protects computer
Use of the 623 protects the system's PCI slot from physical wear and reduces the system's electrical stress from frequent power cycling.
Specifications
Bus
PC/104+, 32-bit, 33 MHz
Control
Single illuminated pushbutton
Mounting
Standard PC hold-down bracket
PC/104+ board mounting
Guide pins and a PC/104+ ejector
Dimensions
(W x H x D): 6.50 x 4.75 x 0.75 inches
Power
5 VDC, 50 mA
±12 VDV available
Downloads
File
Version
Type
Size
Hotswap
—
ZIP
1.43 MB
Other Operating Systems
Need a software development kit for another operating system? We can port our SDK to
your OS or provide the information you need to do it yourself. Contact Sales for details.
Pricing & Ordering