Model 812 | 8-Channel Frame Grabber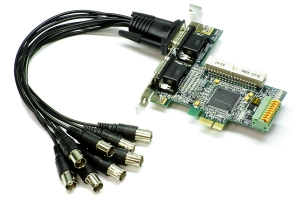 8 channel frame grabber with 8-channel mono audio capture
NTSC and PAL compatible
8 composite video inputs
8 mono audio inputs
8 general-purpose digital I/Os for camera control
PCI Express x1 interface
Description
Sensoray Model 812 is an 8-channel PCI-Express frame grabber that can simultaneously capture 8 channels of NTSC/PAL video, plus optional 8 channels of mono audio. Each video channel captures at full frame rate 30 fps (for NTSC) or 25 fps (for PAL), which results in an aggregate frame rate of up to 240 fps (for NTSC) or 200 fps (for PAL). The board implements a single-lane (x1) PCI-Express interface that enables it to be plugged into any width of PCI-Express slots. All operating power is supplied from the PCI-Express bus and no external power supply is needed.
One model 812C1 cable (shown in image above) is included with model 812, which can be used to connect eight video signals or eight audio signals to the board. In applications that require both audio and video inputs, an additional 812C1 cable should be purchased separately.
Video
All 8 composite video inputs are connected through a DB15 connector with a DB15-to-BNC breakout cable. An additional 34-pin connector can be used for breaking in the all composite video input signals as well. The video capture resolution can be chosen from D1, VGA, QVGA, CIF, 4CIF, SIF, 4SIF, etc. Captured frames could be in YUYV, UYVY, RGB555, or RGB565 formats.
Audio
All 8 mono audio inputs can be connected through a second DB15 connector with an optionally supplied DB15-to-BNC breakout cable. The 34-pin connector can be used for breaking-in the all audio input signals too. The audio sampling rate could be at 8K, 16K, 32K, 44.1K, or 48K Hz.
Digital I/Os
Eight general-purpose digital I/O (DIO) signals are provided for camera control, status indication, or alarming, etc. They can be configured to function as inputs or outputs.
Software
A Software Development Kit (SDK) is available for Linux and Windows. The SDKs include drivers, programming samples, and documentation to help users/programmers quickly start and develop custom applications using the Model 812.
Applications
Sensoray Model 812 is designated for video surveillance applications. However, it can be used for all other multi-channel vision, image processing, and video capturing + recording applications. With chipset supplier's expectation, all video source signals are expected from stable video sources. The board is not suitable for week video signal sources and/or switching video source applications. To get better multi-channel perview performance on PCs with an Intel shipset, a discrete (non on-motherboard) graphic video card might be needed.
Specifications
Video Formats
NTSC, PAL
Video Inputs
8 input channels, simultaneously:
8 Composite video via DB15 connector, 75 Ohms; or
8 Composite video via a 34-pin break-in connector, 75 Ohms
Audio Inputs
8 input channels: Mono, associated with the 8 separated video channels
8 Mono audio channels via DB15 connector, Line-in level; or
8 Mono audio channels via a 34-pin break-in connector Signal level: Line-in level, +/- 1.0V
Video Capture Mode
Raw: YUYV, UYVY, RGB555, or RGB565
Video Capture Rate
Up to: 240 (30x8) frames/sec for NTSC
200 (25x8) frames/sec for PAL
* See Maximum Channels vs. Maximum Frame Rate chart below for details
Resolution
Supported:
D1.NTSC: 720x480, D1.PAL: 720x576
SIF: 352x240, 2SIF: 704x240, 4SIF: 704x480
VGA: 640x480, QVGA: 320x240, QQVGA: 160x120
CIF: 352x288, QCIF: 176x144, SQCIF: 128x96, 4CIF: 704x576
Audio Sampling Rate
8K, 16K, 32K, 44.1K, 48K Hz
Digital I/O
8 inputs, or 8 outputs, or 4 inputs + 4 outputs:
configurable inputs/outputs, break-in/out via a 34-pin connector;
or optionally via I/O terminal blocks;
Signal Level: TTL signals
Bus
PCI-Express x1: Compliant of PCI-Express Base Specification (Revision 1.1/2.0)
OS Platform
Linux and Windows
Power
825mW, +3.3V @ 0.25A
Temperature
-40 - +85 °C
Board Size
4.1" x 3.9" (105mm x 100cm)
Maximum Channels vs. Maximum Frame Rate
Sensoray bundles chipset supplier's drivers with Model 812 for both Linux and Windows. The Linux driver is a high performance driver that makes possible simultaneous full frame rate capture at D1 resolution from all eight input channels. The Windows driver, however, has lower performance that may require tradeoffs between the number of active channels, resolution, and frame rate.
The following table shows the Maximum Channel vs. Maximum Frame Rate that will reliably result in error-free performance on a typical reasonably-new PC/Server. In most cases these performance levels will be enhanced when using higher performance host computers.
Maximum Channels vs. maximum Frame Rate Performance
Driver
Active Video Channels
Resolution
Frames/Second/Channel
NTSC
PAL
Linux
1 - 8
VGA, 4SIF/4CIF, D1, or under
30
25
Windows
1 - 4
VGA, 4SIF/4CIF, D1, or under
30
25
5 - 8
QVGA, SIF, CIF, or under
30
25
Pricing & Ordering