48-channel Digital I/O Module | Model 2610
Interfaces 48 general purpose digital I/Os to Ethernet
Each channel can function as input, output, or wired-OR
PWM output mode
Input debounce filters
Directly connects to field wiring
Integrated support for safety interlocks
Selectable operating voltage per channel
Connects to Ethernet through 2601
DIN-3 rail mountable
Description
Model 2610 is a modular, 48 channel digital I/O interface that connects to Ethernet through a 2601 communication module. It has 48 general-purpose digital I/O channels that can independently serve as inputs, outputs, or in wired-OR mode. It is a member of the 2600 series of smart I/O modules.
All 48 channels support standard, programmed output operation, and 32 channels also support PWM (pulse width modulated) output operation, which is useful for controlling motors, heaters, and similar devices. Input signals are passed through a 10 millisecond debounce filter to prevent errors from electromechanical switch bounce. The physical state of each I/O line is indicated with a LED so that signal states can be quickly determined by visual inspection.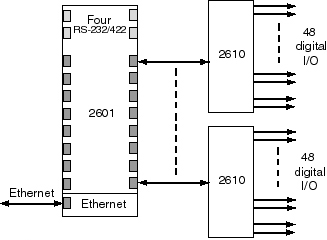 The 2610 can be connected to any of the sixteen IOM (I/O module) ports on a 2601. This is done with a low-cost category-5 patch cable, which supplies communication signals and logic operating power to the 2610. A 2600C1 daisy-chain power cable is also required, to supply I/O power and route interlock signals to the module.
Field Wiring
Field wiring can be directly connected to the module's 48 RJ-11 sockets — no external termination boards are needed. Each socket provides connections to as many as three I/O channels, making it possible for a field cable to convey up to three active signals through a single socket.
I/O Power and Interlock System
Up to five different I/O voltages can be supplied to the 2610 through its interlock connector. A second, identical interlock connector is provided so that I/O power can be conveniently daisy-chained to other modules, thus eliminating the external wiring and termination boards that would otherwise be required. Each digital output can be configured to use any I/O supply voltage.
The I/O supply voltages may be continuous or, if desired, they may be interruptible by external, series-wired contacts (e.g.,interlock, emergency-stop). If a supply voltage is interrupted due to an open contact, all associated outputs will automatically turn off, independent of software operation.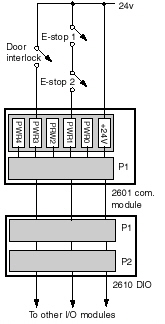 Specifications
Digital I/Os
Number
48
Voltage range
+5 to +24 VDC (supplied through interlock connector)
Output type
Open collector
Output sink current (maximum)
100 mA, per channel
2000 mA, all channels total
Input sink current (maximum)
600 µA
PWM on/off time
2 to 510 ms in 2 ms steps
Input debounce period
10 ms
Connector type
RJ-11
Communications
Commands per second
Up to 1000
Power
Input power
24 VDC, 120 mA (no output loads)
Mechanical
Module dimensions
(W x H x D): 14.25 x 4.93 x 1.87 inches; 362 x 125 x 47.5 mm
DIN rail
35 mm DIN rails
Environmental
Operating temperature range
20 to 70 °C
Downloads
File
Version
Type
Size
2600 Software Development Kit
For Linux and Windows
1.1.14
ZIP
1.58 MB
2600 Labview Drivers
1.0.0
ZIP
542 KB
Other Operating Systems
Need a software development kit for another operating system? We can port our SDK to
your OS or provide the information you need to do it yourself. Contact Sales for details.