8/16-channel smart sensor interface | Model 618/619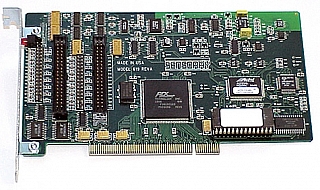 Measures thermocouple, RTD, strain gage, voltage, 4-20 mA, thermistor, and resistance
8 or 16 sensor channels with differential inputs
Provides excitation to passive sensors
Pulsed sensor excitation minimizes sensor self-heating
Cold-junction compensation for thermocouples
Each channel configurable for any supported sensor type
Fully electronic calibration
Description
Sensoray models 618 and 619 offer an easy and cost-effective way to acquire sensor data for any PCI bus system. They feature 16-bit resolution from 8 or 16 channels, each individually programmable for different sensor types.
An on-board microcomputer continually scans the active sensor channels. Each channel is amplified, digitized, filtered, linearized, converted to engineering units, and stored in on-board memory, all independent of host CPU activity. Analog to digital conversion is performed in under 22 milliseconds, providing 45 channels per second scan rate.
A pulsed constant-voltage source is provided for strain and pressure sensors, and a pulsed constant-current source is provided for resistive sensors, thus minimizing sensor self-heating. Lead loss errors from RTD's, thermistors, and resistors are eliminated with the use of a four-wire circuit.
The boards plug directly into standard PCI bus slots. Sensor field wiring is accomplished with a 37-conductor flat cable and remotely mountable screw-termination board, either model 7409TB or model 7409TDIN with DIN rail mounting hardware.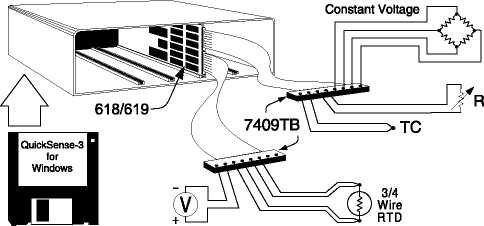 Calibration
Precision reference standards are periodically sampled and used to eliminate gain and offset errors from sensor measurements. Signal conditioning is provided for thermistors, RTD's, thermocouples, strain and pressure, resistance and voltage inputs.
Calibration data is stored in EEPROM so the adapter board may be easily interchanged. Calibration is fully electronic — physical trimpots have been eliminated, along with the need for board access during recalibration
Specifications
Analog inputs
Differential input range
Normal operation: ±5 V
Absolute maximum: 63 VAC rms, 2 seconds max.
CMMR
95 db/min
Input resistance
1000 MΩ
A/D converter
16-bit integrating
Conversion time
22 ms/channel
A/D scan rate
45 samples/second
Sensor Types
Thermocouples
J, K, T, S, E, B, N, C, R
Platinum RTD
100 Ω, types 385 and 392
Nickel RTD
120, 200, 1000 Ω
Copper
10 Ω
Thermistors
10000 Ω, YSI type 44006 or 44031
Strain gauges
120 to 4000 Ω
Mechanical and Environmental/th>
Bus interface
PCI
Input Power
5 V (at 100 mA)
12 V (at 35 mA)
Operating temperature
-25 to 85 °C
Sensor
Resolution
Range
Thermocouples
0.1 °C
-270 to 1760 °C
Thermistors
0.01 °C
-55 to 145 °C
Resistors
0.02 Ω
0.125 Ω
31 Ω
0 to 400 Ω
0 to 3 kΩ
0 to 600 kΩ
RTDs
0.05 °C
0.0125 °C
-200 to 800 °C
0 to 400 °C
Strain/pressure
5 µV
±100 mV
DC voltage
5 µV
20 µV
200 µV
±100 mV
±500 mV
±5 V
Pricing & Ordering